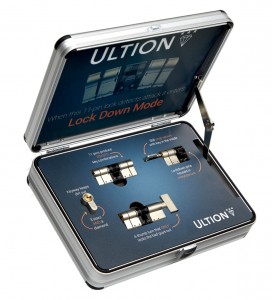 All Brisant customers, whether locksmiths or door installers, say how easy it is to sell the Ultion lock or doors locked with Ultion. But when a lock has so many unique benefits it can be tricky to squeeze them all into a quick presentation.
A presentation thats as impressive as the product
The Ultion presentation case very quickly, and graphically, shows the customer how Ultion will make them safer. As soon as the lid opens the moving image on the inside of the lid (a lenticular!!) demonstrates how Ultion's Lockdown Mode operates when its attacked. Rather than simply leaving products in a box and expecting the customer to know what they are looking at the Ultion samples are encased within a presentation story. The headline Ultion messages are presented and pointed out, from the thumb-turn that only keeps the bad guys out, to still being snap secure even with the key in the inside, to a cutaway lock showing Ultion's unique 11 pin system that provides nearly 300,000 key combinations.
Living room or counter top presentation?
The handle makes it ideal for the door installer to take on his presentation. Yet because the handle is positioned on the 'bottom' of the case it can't be seen when the case is left open on the locksmith counter. It's the perfect sales aid for both situations.
The case is available in the Brisant on-line ordering area for £148+vat and this includes the products. As an introductory offer we are giving one to every customer who place a £2,000 order until the end of the MLA Expo in Telford on 4th October. This offer is based on all Brisant products not just Ultion.