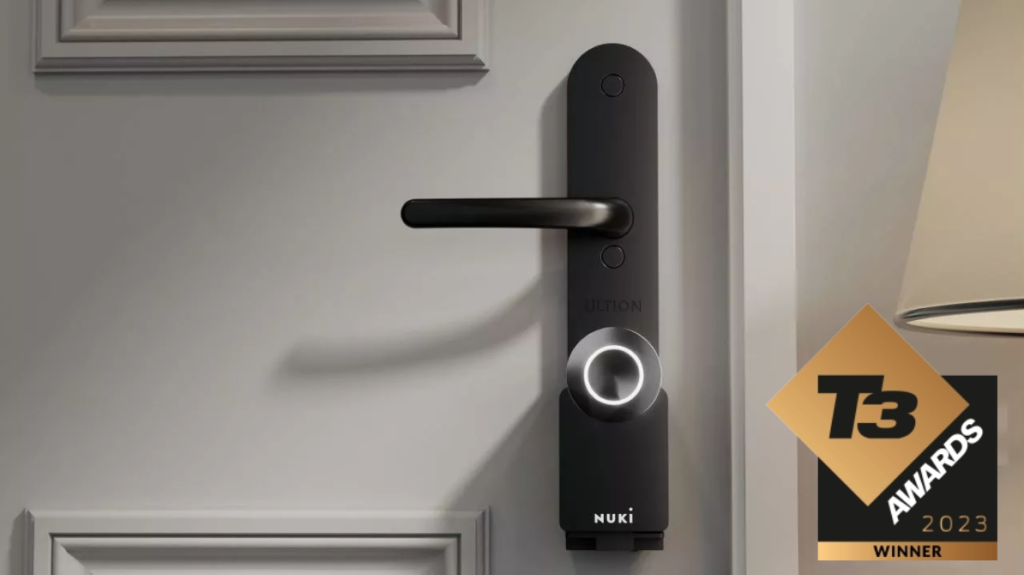 Ultion is thrilled to announce their victory at the T3 Awards 2023. Their revolutionary product, the Ultion Nuki Plus, has emerged triumphant in the fiercely competitive Smart Security category, leaving behind formidable competitors such as Arlo, ERA, T-Link, and Yale.
The T3 Awards, renowned for recognising technological excellence and innovation, witnessed intense competition this year. However, Ultion's approach of prioritising locking first and emphasising security as their foremost concern set them apart from the competition. Their commitment to prioritising security has been previously acknowledged by T3, who commented that the Ultion Nuki Plus "might be the best smart lock" they have ever seen.
The Ultion Nuki Plus has set a new standard for smart lock systems, combining cutting-edge technology with a wide range of convenient access options. With features such as built-in Wi-Fi, a rechargeable USB-C battery, and compatibility with keycodes, voice commands, the Nuki app, key fobs and fingerprint access, Ultion's lock offers unrivalled convenience and security. The built-in bridge allows users to effortlessly control the lock from their smartphones, while the auto-unlock feature adds an extra layer of sophistication and convenience.
"We are incredibly proud to receive this prestigious accolade at the T3 Awards. It is a proud moment for Ultion," said Nick Dutton, CEO of Ultion. "This recognition is a testament to our unwavering dedication to delivering smart security solutions that not only offer convenience but also provide peace of mind to our customers. With our steadfast commitment to keeping the bad guys out, we will continue pushing the boundaries of innovation in the smart security sector.
Find out more about the Ultion Nuki Plus here: https://www.ultion-lock.co.uk/ultion-nuki-5/