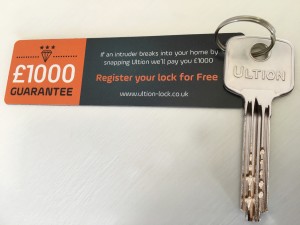 Brisant Secure is offering homeowners a free 10 year £1,000 guarantee against burglary as a result of snapping with Ultion locks. Ultion is the high security cylinder door lock that keeps the burglars out.
Homeowners register their newly installed Ultion lock online at www.ultion-lock.co.uk. Then if their home is burgled as a result of Ultion being snapped in the following 10 years, they claim their £1,000.
Brisant CEO Steve Stewart says: "We're putting our money where our mouth is. We know Ultion provides homes with real security and it's designed to withstand all known attacks, including snapping. Most anti-snap locks snap quite quickly. Ultion doesn't, so the guarantee makes this more obvious, and helps installers sell more doors."
Ultion has achieved Sold Secure Diamond (SSD), a real-life security test most cylinders can't pass. MLA locksmiths try to break the cylinder in any way they know, using a vast choice of tools. And they can spend as long as they like doing it.
"We don't expect to have to pay out," adds Steve. "But there's a counter on our website, so you'll know if we do!"
There are two Ultion stands at the FIT Show; AT14 and AT51. Find out what selling Ultion security can do for your business.
To find out more about Ultion and its guarantee visit www.ultion-lock.co.uk or follow @UltionLock.