Working in partnership with Garnalex, hardware house Brisant Secure has provided a security solution for the new Sheerline Prestige bi-fold door.
Available now for Sheerline's range of Prestige bi-fold doors, the innovative new Ultion 1* Plus 2* security solution combines the Ultion one star lock with the game-changing two star security handle. Brisant worked closely with the Garnalex technical team to understand their requirements and produce an exclusive folding Ultion key for the Sheerline bi-fold door to protect the frame from damage in the fold position.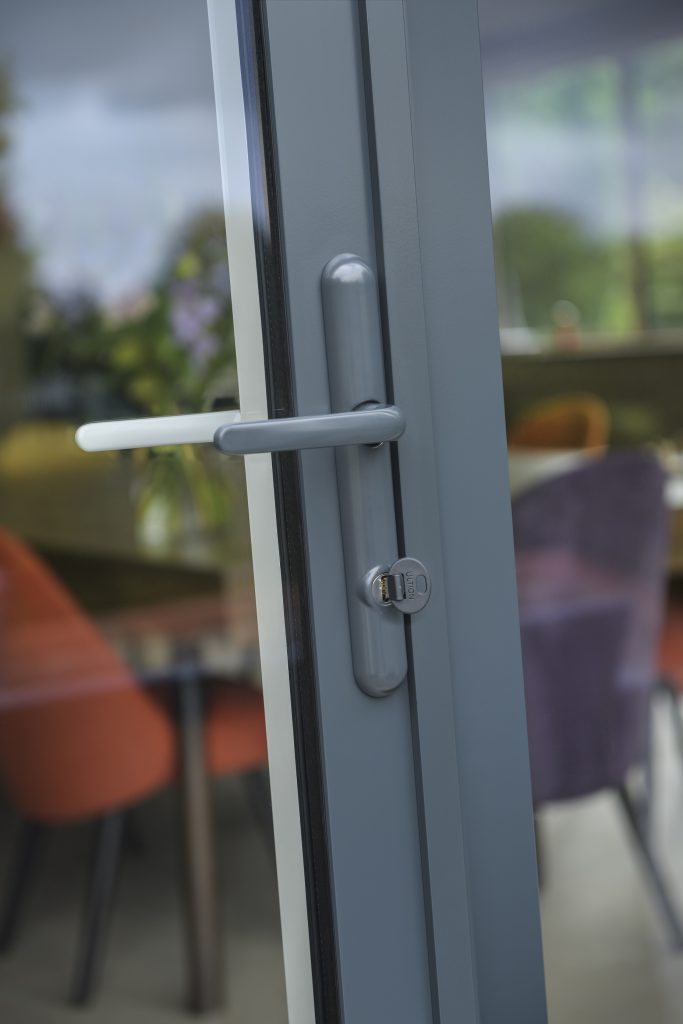 The Ultion 1* Plus 2* offers the very best in security alongside very beautiful looks. With the two-star handle, the latest product from Brisant Secure, its unique seamless curves prevent burglars from ripping it from the door and the molybdenum cylinder shield protects against drilling and lock snapping. It's also designed to last while keeping its looks. Compared with normal handles that struggle to withstand the corrosive effects of saltwater weathering and fail within a week or two, the handle still looks stunning after a full year in the weather test chamber.
Sheerline's new bi-fold door is the latest addition to the popular range of Sheerline Prestige aluminium windows and doors. The Sheerline Prestige bi-fold offers the perfect balance of style, security, innovation, and sustainability with extremely low U-Values which meet the more stringent Building Regulations energy standards, due to come into force next year.
Nick Dutton, CEO of Brisant Secure, says: "We are delighted to be working with Garnalex on a bespoke solution that combines our ultra-secure Ultion one-star lock and brand new two-star handle with a unique folding key for the innovative Sheerline bi-fold door. We believe our new security solution will change the market's perception and use of security handles.
"Working in close partnership with the Garnalex technical team on their Sheerline bi-fold door is just one example of how we go the extra mile to provide innovative solutions for customers. We are excited to see our new security handle, in combination with the one-star Ultion lock, on one of the most revolutionary and beautiful bi-folds on the market."
Roger Hartshorn, CEO of Garnalex, adds: "The new Sheerline Prestige bi-fold door is a game changer in many respects – in looks, performance and energy efficiency, and in security too. Not only does Ultion offer innovative three-star security protection, but it also looks great on our new innovative bi-fold door. The new folding key, developed with the Brisant team for our bi-fold door, prevents scratching or damage to the frame, a huge benefit for homeowners. Couple that with the three-star security solution and you've got a top quality lock, security handle and folding key option on the Sheerline bi-fold and it's available now."
To learn more about Sheerline, call 01332 978000, email info@sheerline.com or visit www.sheerline.com. Follow @SheerlineSystem and @GarnalexSystems for the latest news and updates.
Discover more about Brisant Secure at www.brisant-secure.com, call 01924 410 200 or email contact@brisant-secure.com