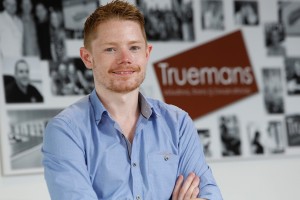 Truemans, the leading one-stop shop trade supplier, has added Ultion as an upgrade cylinder, and it's already helping installer customers sell more doors.
Managing Director Joe Trueman says, "The buzz around Ultion on social media was something I couldn't ignore, so I visited the website and was compelled by its messages."
Truemans sells Ultion as an upgrade cylinder on all its doors and has been spreading the word. It has added a dedicated Ultion page to its website, sent an eshot to existing and potential customers, and created flyers for all customers, available now, from its three Trade Counter branches in Burnley, Sheffield and Doncaster.
"Ultion outperforms every other lock on the market, and the marketing is there to back that up," continues Joe. "The website is well designed, and most importantly, is homeowner friendly, so we can direct our customers to it as a useful sales tool."
"Security is a key issue for our industry," adds Joe. "Our customers are now able to go to homeowners with important information about home security that speaks for itself. The clear selling benefits of Ultion are already helping them win more orders from their competitors."
Brisant CEO Steve Stewart explains: "Ultion helps sell real security in an industry that has been ignoring the issue. Ultion can only be opened with its key, and that is convincing enough for homeowners to choose one door over another. Ultion keeps the bad guys out."
Find out about Truemans at www.truemanswindows.co.uk or call 01282 504 704.
Fabricators and installers looking to sell real security should call Warren Yates at Brisant-Secure on 01924 455 444.