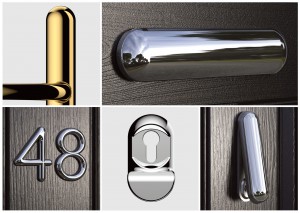 Brisant Secure have just unwrapped Sweet, a truly suited range of door furniture. It shares the same registered curved design ethos and longevity with Lock Lock, their revolutionary security door handle and includes handle, knocker, letterplate, escutcheon and numerals.
Suited door furniture has long been a headline requirement for door buyers, yet in most instances the term 'suited' extends little further than colour, with no design compatibility between components. Bringing Brisant's curved design concept into the handle, knocker, letterplate, escutcheons and even numerals gives the door a genuinely coordinated appearance with curve appeal.
Every Sweet element is manufactured to the same specification as Lock Lock, which boasts 8,000+ hours in a salt spray chamber, 34 times longer than the 240 hour accreditation requirement and eight times that claimed by stainless steel systems. Based on independent tested performance, the Sweet 10 year anti-corrosion warranty is a guaranteed expectation of life-span, not a period of time that the installer is expected to supply replacements for.
To reinforce this confidence, Brisant are relieving the installer from tiresome 'pitting' furniture issues by giving a direct-to-consumer warranty, with a simple and quick on-line activation system.
Nick Dutton CEO of Brisant Secure commented: 'We have seen little innovation in the door furniture sector for many years, with ever-inflating prices for me-too products. So we've developed Sweet, a fully integrated door furniture system, that's all wrapped up in a beautiful design and so it not only looks sensational, but offers unrivalled longevity, something we're backing up by taking full ownership of the warranty.
He continued: 'At the same time we're bringing in Lock Lock to the Sweet family as not only the ultimate high security upgrade, but as a suited high security upgrade. Collectively, this will provide unique sales opportunities for our customers in the entrance door market, without the worry of pitting hardware and excessive call backs.'
For further information on Sweet visit www.sweet-doors.co.uk, e-mail sales@brisant-secure.com or call 01924 410200.