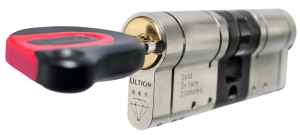 Strawberry on Black is the most popular colour combination bought by homeowners in Keycap's first month on sale. Launched at the end of July, Ultion's Keycap is a funky, brightly coloured cap that snaps onto Ultion keys so they're easy to identify and personalise. Ultion, the high security cylinder door lock from Brisant Secure, has created a landslide in the door industry because it's a tool that sells doors.
Available in eight different colour combinations there's a Keycap for everyone in the family.
Brisant CEO Nick Dutton says: "Keycap's first month has been a great success. Homeowners like choosing the colours so they can colour code their Ultion keys by door or family member.
"Now we've launched Keyring too, we're excited to see which colour is most popular in its first month."
Keyring has built-in TrackR technology so homeowners can connect their smartphone to their keys via Bluetooth. Using the slick, user-friendly TrackR app they can see where their keys were the last time they were in Bluetooth range of their phone.
"Keyring comes in the same colours as Keycap and it's got this great new technology built-in," Nick adds. "No one has used TrackR's technology like this before, and the TrackR company is as excited about Keyring as we are. It's even taking Keyring to CES (Consumer Electronics Show) in Las Vegas next year. It's a massive show, and a great platform for Ultion in the US market.
"So far Strawberry is the most popular Keycap colour, but it will be interesting to see if other colours catch up as homeowners learn more about their Ultion key upgrades."
Which colour will you choose? Find out more about Keycap and Keyring at www.ultion-lock.co.uk/key-upgrades.
To find out what selling real-life security can do for your sales call 01924 455 444, visit www.ultion-lock.co.uk or follow @UltionLock on Twitter.