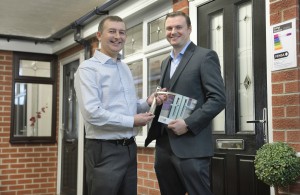 Qualitere Windows is the latest installation company to fit Lock Lock security handles as standard. After on-site testing and both employee and customer surveys, Joint Owner Martin Harris announced the move, fitting all 20 showroom doors with Brisant Secure's Lock Lock.
"Lock Lock's performance and security are first-class but it's also the clear market leader in anti-corrosion," says Martin. "Pitting and tarnishing is an issue in the hardware industry, but we've never bought cheap products as we have a reputation to protect. We did have issues with three handles recently though (despite being 64 miles from the coast!) and that was three too many. This just can't happen: customers come to us for top-of-the-range quality so we needed a secure handle that would stay looking good. After trialling and feedback from customers on the functionality and looks, I was so impressed I made Lock Lock the standard option rather than an upgrade."
Qualitere Windows is a family-run business in the East Midlands. "We'd been looking to improve our premium security handle offer for a while," continues Martin. "We got a fantastic reception when we started fitting Brisant's Ultion cylinders as standard over a year ago, and I knew Lock Lock could be another game changer for us. Handle and cylinder lock manufacturers approach me regularly with cheaper alternatives. But I'm not interested in cheap, and neither are my customers. I need to be 100% sure on quality and security, and with Lock Lock, I am."
For more information on Qualitere visit www.qualiterewindows.co.uk; for details on Lock Lock's anti-corrosion performance go to www.lock-lock.co.uk/tested.