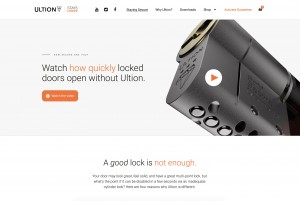 The new Ultion website from Brisant Secure offers a beautiful engaging experience and has been launched with a unique product presentation page for customers with Ultion On Your Site.
Ultion On Your Site can be integrated on to any website from a selection of banner links. All that is required is a single line of script and there's even a video tutorial to show how effective it is.  And with the only links on the page going back to the original site it really gives the impression of being part of customer's site.
One of the first companies to adopt this powerful marketing presentation was Porta-Dors, with managing director Theresa Dyer saying of it: 'Ultion On Your Site was so easy to incorporate within our website, that I did it myself on five different pages.
She continued: 'The result is that our customers are fully informed about the performance of Ultion vs other cylinders, as we're selling both a door and the perceived security that goes with it. Now over 90% of customers opt for Ultion, with the expectation to get this close to 100% in the coming months.'
With over 17,000 unique visitors to the Ultion website per month, Brisant have added the facility for homeowners to search for local Ultion door installers. There are also a number of engaging videos throughout the site, along with a webshop offering additional keys, padlocks, KeyRing, KeyCap, and a lock lubricant.
Nick Dutton, CEO of Brisant Secure commented: 'The new website is beautifully presented with an installer search facility. But the true power, as Porta-Dors have experienced, is Ultion On Your Site. It's dedicated product page for our customers and it's a proposition that we have expanded upon with Sweet On Your Site for our door furniture range.'
Please visit the new Ultion website at www.ultion-lock.co.uk.