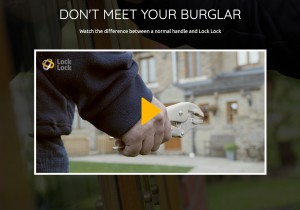 The latest compelling video from Lock Lock, shows that in less than 10 seconds an intruder can gain entry into a home with only a 1 Star cylinder, while Lock Lock survives a sustained effort several minutes even with the cylinder removed.
The latest video at www.lock-lock.co.uk/protection has been designed to communicate the benefits of Lock Lock's registered seamless and edgeless design, which doesn't provide any potential intruder with a surface area in which to grab with a mole wrench in order to break the handle. Lock Lock is also the industry's only TS007:2012 2 Star security handle with Sold Secure certification.
With over 100,000 homeowners coming face to face with their intruder every year, the issue of both handle and cylinder security has never been so important. Given the relatively high ticket price of an alarm system and the associated monitoring costs, the upgrade to Lock Lock and also the 3 Star Ultion cylinder has never looked so good.
Leading locksmiths already stock Lock Lock as the ultimate deterrent, while an increasing number of door manufacturers are looking to Lock Lock as a proven and tested security upgrade. With industry debate already fuelled about the 240/480 hour salt spray standard there's also the reassurance of a product that's now heading for 6,000 in the salt spray chamber.
Nick Dutton, CEO of Brisant Secure commented: 'The latest video isn't there to scaremonger, but to highlight the importance of door handle security. As much as the industry has adopted Ultion in their droves, we're starting to experience the same upward curve with Lock Lock and for good reason, it's unmatched in terms of door security, yet encapsulated within a beautiful design.'