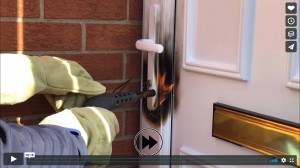 The following is a letter we sent out to the trade media for doors and locksmiths.
Dear Editor
Burglars using blow torches to gain entry through people's front doors has made national news over the last week, with articles in the Daily Mail, The Sun and The Mirror. We have received many enquiries from concerned homeowners through social media channels about their safety.
The latest crime statistics also make for grim reading with robberies up 17% and the chances of being involved in a crime are now 1 in 5. The number of serving police officers has also fallen by over 20,000 in the last 8 years and so this latest means of forced entry is particularly alarming, as there are fewer policemen on the beat.
Ultion is proven to withstand attacks from blowtorches. A blowtorch cannot come close to melting Ultion's molybdenum core. In a recent test Ultion withstood the blowtorch attack and kept the door locked and fully secure, despite the door and handle being completely destroyed. The video can be seen at here.
The cylinders fitted by door manufacturers are being replaced by locksmiths en masse with Ultion and in many cases they are offering the new security handle Lock Lock as the ultimate deterrent. Ultion and Lock Lock are the 'must-sells' for 2019.
With security the number one key factor in new entrance door sales, top security locks and handles need to be fitted as standard.
Yours sincerely
Nick Dutton
CEO
Brisant Secure