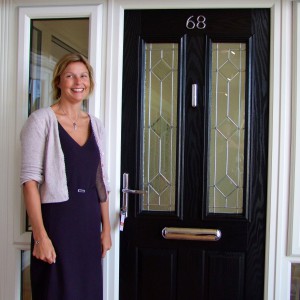 Kingfisher Windows have become one of the first installation companies in the UK to offer the revolutionary Sweet door furniture range as standard, thanks to its innovative design, unrivalled longevity and unique consumer warranty.
Sweet is redefining the door furniture market having achieved over 8,000 hours in a salt spray chamber, equivalent to 33 times more than the current 240 hour standard. There's also the offer of a direct to consumer 10-year warranty, so there isn't the worry for manufacturers or installation companies such as Kingfisher Windows, having to address ongoing pitting issues.
Kingfisher Windows are one of the largest trade manufacturers in Yorkshire and now heading towards their 30thanniversary. Throughout this time the company has been servicing pitting issues with door furniture with little support from the supply chain as Deborah Beeley, sales and marketing manager points out: 'It seems like we've been left to service pitting issues on our own for decades. The opportunity to take Sweet on board right from the outset was an obvious step for us with the launch of our new composite door range. This includes Sweet and Ultion as standard, with the option to upgrade to the high security Lock Lock handle and the initial feedback from customers has been exceptional.'
Nick Dutton, CEO of Brisant Secure concluded: 'Kingfisher have been one of the first adopters of Sweet and couldn't get the order in quick enough from our online ordering platform. There's been a huge amount of interest for Sweet, it's a game changer for anyone looking for a product with designer appeal, yet backed with unrivalled performance and warranty credentials.'
Please visit www.kingfisherwindows.co.uk for all trade enquiries in the Yorkshire region.