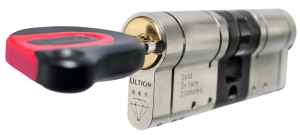 More installers are buying composite doors, removing the cylinders and replacing them with Ultion, the high security cylinder door lock.
Installers say it's worth the expense of buying two cylinders to be able to sell the real-life Ultion security homeowners want.
Scotland's leading PVC-U installer Advanced Group Owner Mark Watson says: "I saw Ultion at the FIT Show and watched its break-in video: it was shocking. Our policy is to be the best you can be, so why would we sell doors to homeowners with locks that open quickly? Our doors are great quality, so it would be ridiculous to sell them with a weak lock.
"We now get the door from our supplier, take out the lock they put in the door and replace it with Ultion for all our retail customers."
Ultion's break-in video shows a standard unaccredited cylinder door lock being snapped by a burglar in just 9 seconds. Ultion stays locked thanks to its unique Lock Down Mode™, which keeps homes secure even under the most violent attacks. The video is on the Ultion website www.ultion-lock.co.uk.
Brisant Secure CEO Nick Dutton says: "Installers like Advanced Group are willing to go through the hassle and expense of taking a cylinder out of a door and fitting a new one so homeowners get the security they deserve. A growing section of the industry wants to sell real-life security, and Ultion is the cylinder that gives it. Its security and its free 10 year £1,000 guarantee are a real selling point. Add to that the funky new Keycap range and we have a cylinder that is more than just a lock. It's a tool that sells doors."