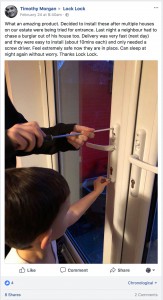 When homeowner Tim Morgan realised that multiple houses on his estate were being primed by unwanted intruders, he turned to Lock Lock in order to secure his home and more importantly, his young family.
There is little to add to his captivating comment on Facebook that was posted on February 24th, 2018: 'What an amazing product. Decided to install these after multiple houses on our estate were being tried for entrance. Last night a neighbour had to chase a burglar out of his house too. Delivery was very fast (next day) and they were easy to install (about 10mins each) and only needed a screw driver. Feel extremely safe now they are in place. Can sleep at night again without worry. Thanks Lock Lock.'
Lock Lock is the only door security handle with Sold Secure certification, which is backed by the Master Locksmiths Association (MLA) and it also carries a TS007:2012 2 Star accreditation.
An increasing number of door manufacturers are looking towards Lock Lock, not only for its unrivalled security credentials, but also for the fact that it has now reached 6,000 hours in a salt spray chamber against the industry 240/480 standard. Leading Locksmith's are also carrying Lock Lock as the ultimate security upgrade as other social media posts have shown.
Nick Dutton, CEO of Brisant Secure commented: 'There's nothing better than a homeowner testimonial to bring to life exactly what Lock Lock can do in terms of securing homes. Tim and his family can now be reassured that they are secure at night and day thanks to Lock Lock and they have joined thousands of other security conscious homeowners with the ultimate door security handle.'