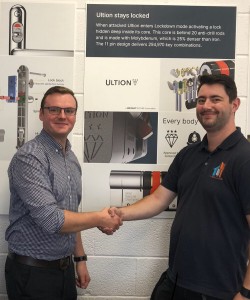 Leeds-based Help Locks are enjoying strong sales, thanks to how they market their business with social media, with support from Brisant Secure through their Ultion and Lock Lock marketing materials.
To put the story into perspective, there have been a spate of burglaries nationally targeting new build properties as they are often specified with a thumbturn cylinder to the front door. Paul Stevens of Help Locks takes up the story: 'I recently responded to a call from a homeowner to change a front door cylinder following on from a social media post from my Leeds Crime Watch page which boats over 6,500 members. The post flagged up that there were a gang of men manipulating thumbturns on a particular estate in Leeds.
He continued: 'The customer upgraded to an Ultion 3 Star cylinder without thumb turn and whilst carrying out the work had requests from numerous neighbours to carry out the same job, followed by homeowners from neighbouring streets. The whole thing went viral within a matter of hours and I now have over 20 jobs booked in.'
Help Locks have always been marketing-led with over 11,000 Facebook followers, and have always used all of the marketing materials for Ultion and Lock Lock from the outset, including personalised videos. Next Paul will be holding a home security awareness event in the White Rose Shopping Centre in October, with the full support of Brisant Secure.
Steve Stewart, CEO of Brisant Secure commented: 'Paul shows what can be achieved with a proactive marketing campaign when it comes to home security and locks. An engaging social media campaign, along with using all of our tools to sell has helped him developed a strong business and outstanding levels of customer satisfaction as can be seen on his 5.0 star Google review. He's a credit to the sector.'
Please visit www.helplocks.com or look for them on Facebook.