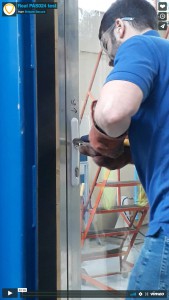 When Kestrel Aluminium Systems took Lock Lock to an official, independent test house for the PAS 24 assessment of a door, the handle withstood some of the most rigorous abuse ever seen on a test video for a product of this type and can be seen at www.bit.ly/2GqN2IW.
Lock Lock is not only being increasingly adopted by the locksmith sector, but also by aluminium systems houses such as Kestrel, their respective fabricators and also by the entrance door sector as a whole. It's based on a registered edgeless design that's not only beautiful in appearance but is purposeful in application, as the handle body cannot be grabbed by tools for forceful removal.
The video shows a sustained attack for over a minute in a test house environment with a full set of available tools and once the handle is finally removed, Lock Lock's unique patented spindle stops the would-be burglar thanks to a number of clever design details. In relation to this PAS 24 test, Lock Lock is also the only security door handle that carries the Sold Secure certification from the Master Locksmiths Association.
Steve Stewart CEO of Brisant Secure commented: 'This is clearly one of the most compelling videos yet of just how good Lock Lock is at deterring the willing burglar. This is a real-life simulation, in an independent test house and instigated by one of our valued customers.
He continued: 'Door security has never been such an important issue for consumers and the industry as a whole and it's a key driver in sales. The fact that many of the leading locksmiths stock Lock Lock is a testament to their absolute confidence in the product and the same can be said for leading aluminium systems companies such as Kestrel Aluminium Systems.'