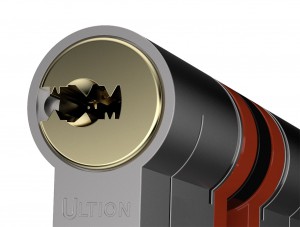 The design of Ultion WXM has evolved to address the ever-increasing pressure on euro-cylinders with new door styles and multi-point locking systems. Brisant Secure has the benefit of being jointly owned by the man that designed Ultion initially and he has the unique knowledge needed to ensure that Brisant keeps moving ahead, constantly responding to the market.
The now two-part plug has increased engagement with a new curved cap and this entire section is moulded from molybdenum and not brass. This strengthening is then coupled with the thicker WXM key shape and composition.  Improved drill protection has also been delivered and it still houses 20 anti-drill points, but the clutch is shielded with the molybdenum section of the plug. There are also two locking pins now, which fire into the body of the attack pin rather than across it.  All the pins used in this area of the lock are made from hardened stainless steel 630.
The thicker key has also enabled the Brisant team to remove the 5 passive top pins and introduce two additional pin lengths to lower the active pins, whilst concurrently increasing the apex differentials between the heights, making the lock harder to pick.  The new pin heights produce in excess of 260,000 working differs, more than doubling the maximum requirement for the TS007 3 Star grade 6.
Other products are being developed alongside WXM to help sell more doors and locks.  Keylight is being introduced alongside the Keycap and Keyring product line, accommodating a battery, controller, LED light and thumb button.  It is available in the full 10 colour combinations, including glow in the dark.
Not all product evolutions have to be focussed on increasing the price, WXM is stronger, thicker and does more, but is the same price.
The current Ultion green box has been upgraded to a white design with an extra side.  This enables Brisant to close and secure the box without the use of transparent sticky pads, enabling keyed-alike and master key Ultion's that can be delivered in boxes that stay looking good.
The point of sale clam pack is ideal for customers with shop and trade counters.  Designed exclusively for Ultion, the pack grips any Ultion cylinder up to 55/55, three thicker keys, the guarantee card and the fixing screws.  They can be hung from a point of sale display or be free standing on the counter.  The included point of sale card clearly shows the benefits and accreditations carried by Ultion, while at the same time promoting the opportunity of having more doors Ultion protected and keyed alike.