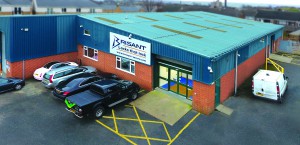 Brisant Secure has moved to a new building with over 12 times more warehouse space than its old premises. The creator of Ultion, the high security cylinder door lock, has acquired a new building to increase its capacity and continue its fast growth.
Brisant Secure launched Ultion in May 2015. The most secure cylinder lock on the market passes even the most aggressive tests. It is BSI Kitemarked TS007 3*, has achieved the Master Locksmiths Association's Sold Secure Diamond, and is Secured By Design. Ultion has driven Brisant's fast growth since its launch, and there's no sign of it slowing down.
Brisant CEO Nick Dutton says: "Ultion has created an avalanche in the door market. Most large and medium door manufacturers switched quickly to Ultion security as standard. Some buy doors, throw away the cylinder, and replace it with Ultion because homeowners want real security, and Ultion, the most secure cylinder door lock you can buy, sells doors."
Brisant's national homeowner survey found that 85% of homeowners say security is what they want when buying a new door. So Ultion, which offers real-life security, sells doors for installers across the country.
"We've moved just down the road, and with the space we have now we can continue to grow very fast," adds Nick. "We've spent the last few months developing the space and building new office facilities. Now we're in, we're keen to make the most of it and fill it quickly!"