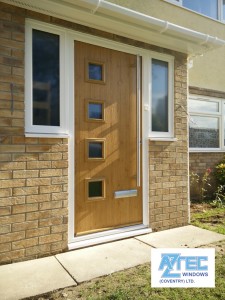 Coventry based Aztec Windows, fabricators of one of the largest ranges of PVC-U windows and doors in the West Midlands, has standardised in Ultion, Brisant Secure's high security flagship cylinder lock, for all doors.
Aztec Windows (Coventry) Ltd Director Michael Hagan explains: "We're a fabricator that offers customers high quality products with unrivalled service, so we're always looking to improve our product range. I started to talk to Brisant about Ultion after reading about it in the press and on social media. I tried using Ultion as an upgrade but it quickly became clear that I had to offer it as standard because real security shouldn't be an option. From October 1st last year all our doors have come equipped with Ultion."
Ultion has achieved Sold Secure Diamond (SSD) having passed real-life security tests that most other cylinders can't. There is no time limit in SSD tests. Testers choose from a range of tools and try to break the cylinder in any way they know how. If the cylinder breaks, it fails. If it doesn't, it passes. Testers stopped trying to break Ultion after 2½ hours of testing.
"It seemed silly to sell insecure doors when we have a solution to secure them," adds Michael. "We're talking to all our customers about Sold Secure Diamond and Ultion to make sure they know what they mean by real security. So far the reception has been great because our customers would rather pay more for a secure door."
Brisant Secure CEO Steve Stewart comments: "Security is a problem in the window and door industry. But the fact that fabricators like Aztec Windows are taking positive steps to improve the security they sell is reassuring, and marks a real change in the way the industry is thinking."
For more information on Aztec Windows visit www.aztec-windows.com or call 024 7662 1316.
Fabricators and installers looking to sell real life security should call Warren Yates on 01924 455 444.