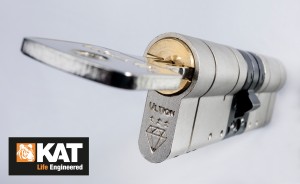 KAT, the UK's specialist glazing manufacturer, is standardising on Ultion for all its PVC sliding patio doors from January 2016. Ultion is Brisant Secure's high security cylinder door lock. Ultion security is just one of the key upgrades being introduced to KAT's range for 2016. KAT customers will stay ahead of the rest with high product specification as standard.
KAT's Commercial Director Chris Powell explains: "We've built the KAT brand on producing high spec products, so I'm always hunting for quality additions to our ranges. Ultion is a high quality product and the practical security it offers is second to none. It fits with KAT perfectly."
Ultion achieved Sold Secure Diamond after passing extensive tests carried out by expert locksmiths. Videos comparing Ultion security with the security from most lock cylinders in the industry are at www.ultion-lock.co.uk.
"The videos are shocking," says Chris. "They make it easy for us to show our customers why we won't sell them anything else."
Brisant CEO Steve Stewart says: "KAT's commitment to producing the highest quality products makes Ultion a perfect fit. With Ultion, customers can be sure their cylinder is providing homeowners with the very best security."
For more information on KAT visit www.katuk.co.uk or call 01625 439666.
Fabricators and installers looking to sell 'real life' security should call Warren Yates on 01924 455 444.