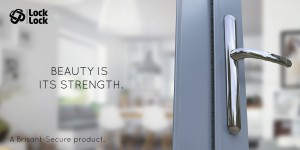 Lock Lock is a radical new security handle from Brisant Secure. It not only looks great, its patented design protects against picking, bumping, drilling and snapping. Flick the switch on the inside handle and you activate Lock Lock's unique spindle block, so the door can't be opened from the outside, even if the cylinder is breached. If the spindle can't be turned the door won't open.
As 58% of burglaries occur while someone is in the house, Lock Lock gives homeowners another layer of door security for complete peace of mind. "Lock Lock protects what really matters – you and your family. It's extreme personal protection; a completely new proposition that will change the way we lock our doors," says Nick Dutton, CEO of Brisant.
There's also a stunning option designed for doors that are only ever locked from the inside, so no key is required: just the internal switch. Lock Lock Cylinder-Free is ideal for use on conservatory, patio, bi-fold and double doors.
Both versions of Lock Lock have a seamless, sweeping curve that makes the handle much harder to grip, so even more secure – its beauty is its strength. It's also designed for durability, as the body of the handle is twice as thick as standard models, with double coats of both copper and nickel.
Available from June in white, black, polished chrome, polished PVD brass and brushed stainless steel, Lock Lock fits both PVC-U and composite doors, with reinforced M6 fixing options in both 122mm and 211mm. A Lever Pad option will also be available.
Lock Lock will be shown on a number of stands at the upcoming FIT show at the NEC, Birmingham 23-25 May, with Solidor as the official launch partner.