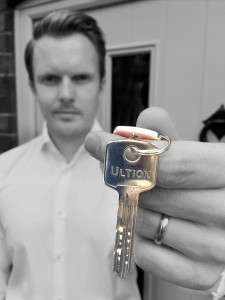 Gareth Mobley, CEO of DW3 Products Group, the dynamic new business grouping of Solidor, Nice Door Panels, Residence 9 and Window Widgets, has installed Ultion from Brisant-Secure on five doors at his own home.
"No one wants to be burgled, or know they're vulnerable to a burglar who has learned how to snap locks," Gareth explains. "But it's a growing, serious problem, and I wanted to protect my family and home with a lock that can only be opened with its key. Now I've got it, and I've installed five Ultion cylinder locks on all my external doors, so we sleep easy."
Ultion, the high quality, high security cylinder from Brisant Secure is anti-bump, anti-pick, anti-drill, anti-snap, and anti-burglar. It has passed the ultra-demanding real-life Master Locksmiths Association's (MLA) Sold Secure Diamond (SSD) test. MLA skilled locksmiths are tasked with trying to break Ultion using any tool, at any angle, with any force, for any amount of time. They can stop the clock to think about the problem. They can even phone another locksmith for suggestions. They gave up after 2½ hours of no-holds-barred testing. The SSD test is brutal. If the cylinder breaks, it fails. If it survives, it's Sold Secure Diamond.
"The SSD Diamond mark really means something," says Gareth. "Now Solidor, the best composite door, offers Ultion, the best cylinder, as an upgrade to help Solidor customers sell even more composite doors."
Visit www.solidor.co.uk or call 0845 314 2302.