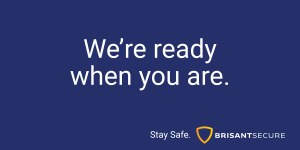 Evidently, this was not the last few months we had in mind when we planned our year. It is tough for all business and we hope your business is bearing up.
To support locksmiths needing to access locks for emergencies Brisant-Secure has maintained a small proportion of our operations throughout the past few weeks. This is of course whilst observing government guidelines and implementing new safety and distancing measures which have successfully kept our team safe. Many of our team are inevitably furloughed, but we are exceptionally grateful to the dedicated hardworking people going above and beyond in their efforts for the business.
We thought you'd like to know that this 'reduced but active' status and the ability to repatriate furloughed team members (both on site and from home) as demand develops we are available to support your needs for both stock and made-to-order product as and when you return to work, and still on the same next-day service.
A massive thank you for your continuing loyalty and support in helping us come through this crisis.
Nick Dutton and Steve Stewart.
Brisant Secure. Stay Safe.